It's Burger Season!!
So I've never made a burger from scratch...the freezer in my apartment is usually full of Morningstar Farms Mushroom Lovers (me) and Original Gardenburgers (my other half). It's something I've been wanting to do for awhile, especially since I'm big on trying to eliminate artificial "junk" from my body, and processed "meats" are where I get the majority of it. That and I know the morningstar farms aren't Vegan...but I can't seem to find another one I like as much.
I decided today was the day...it's summer, it's hot, and it's BURGER SEASON!!! I made the black bean burgers from V'CON and OMG are they good. I don't think I'll EVER buy a pre-made veggie burger again. The recipe gave an option between ketchup and tomato paste, and while I had the paste, there was nothing liquid in the recipe besides water, so I decided ketchup might be a better idea. It turned out great, and I'd definitely go with that in the future. Cilantro was also optional, but since I picked up a huge bunch at the supermarket today, I not only included it, but nearly doubled the amount called for. Another choice I stand behind 100%.
The burger is pictured below, I arranged it for optimal patty viewing: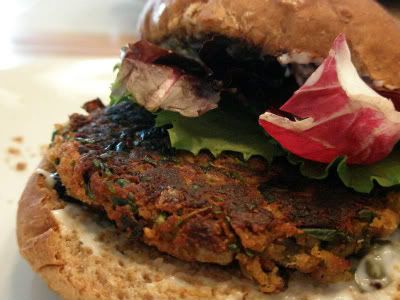 I served it up on a whole wheat bulkie roll ($1 for 6 on the day old cart at the market, whoohoo!) with my signature burger spread.
I don't measure anything, but the ingredients in the spread are:
A healthy dollop Nayonaise or mayo
A splash of lemon juice
Grinds of salt and peppercorn
A large spoonful of capers...if yours are monstrous like mine were, you may want to give them a quick chop first.
Mix everything together, spread on your bun...and enjoy!!!! (trust me it's not hard to enjoy these, I'm getting exciting just thinking about the remaining ones in the freezer)
Selah.