A classic and a Favorite
I was raised on Israeli salad (and many other Middle Eastern specialties) and made it a daily indulgence when I was studying abroad there during college. It's a total coincidence that my boyfriend who has never been to Israel was introduced to the dish by a friend years ago, and fell in love with it. We
must
be a match made in heaven.
This salad is quick, easy, and perfectly light for summer. While you can do any number of variations on the vegetables involved, the general rule is that you don't include lettuce, and all the vegetable are diced as tiny as possible. My favored combination is of baby cucumbers, bell pepper (green in this case, although any color is good) and organic grape tomatoes. (I like those because they're easy to mince in seconds, and I just think they taste amazing) Parsley is often added as well, but since I was out of that I used a handfull of chopped cilantro and I think it may even be better.
The dressing is just as simple: A splash of lemon juice, a liberal dose of olive oil (nothing from the Mediterranean is without), salt, pepper, and zaatar. If you don't have zaatar, it is available at any middle eastern grocery, and worst case scenario, a mixture of oregano and sesame seeds will do you.
The asparagus-lemongrass risotto was one of the first things I made from V'con, and I loved it so much I can't even bring myself to try the other risotto in the book. I have yet to make it with mint, because it seems Shaws has some sort of "mint embargo" going on, as they haven't stocked it in about two months now. I could try one of the other 3 grocery stores on the street, but old habits die hard. The recipe seemed a little different this time, I think because I poured in more lime juice in an effort to finish our little plastic lime squeezy, and may have downsized the sugar a bit, in an effort to well....eat less sugar.
Nevertheless, it was certainly still good, and nearly all of it was gobbled up before it could see the light of day as leftovers.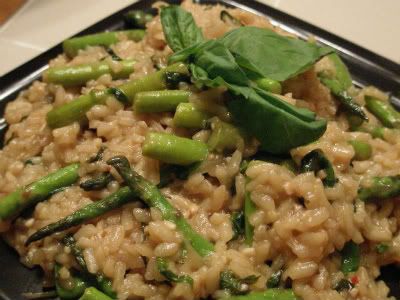 Selah.