Un-Beef Wellington
I've been meaning to make this forever, but I was terrified. The original recipe looks hard enough, for this version I obviously had to MAKE the meat, and I've never used filo dough before...for anything. The forces of nature were definitely working against me. Having considered all of that, I'm very proud of the result.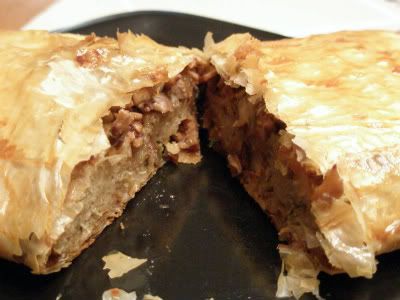 I got the recipe from
melbedggood
, and made a couple minor changes based on what I had on hand. I replaced the Parisian Essense with Italian seasoning, and the shitake mushrooms with oyster. I also used regular flour instead of the 1/4 cup rice flour since I didn't have any.
Overall this came out really well. I was right to be terrified of filo pastry, it's incredibly hard to deal with, and there's a very good reason you didn't get a bottom view of the wellington. For my first time however, I think I did pretty well, and I do plan to wrestle with puff pastry again.
Selah.