Israeli Couscous
This was a simple dinner, made to utilize some of the leftovers in the fridge/pantry before we go grocery shopping again. Israeli couscous is something I've always found pretty confusing, because I've spent time living and cooking in Israel…and they all eat what's called "Moroccan or French Couscous" here, and I may have seen "Israeli couscous" once. I've never actually made this kind of couscous before, and decided I'd buy some to check out, so tonight was the night.
It's a lot like tapioca pearls, but in pasta form, and to be honest I'm not a huge fan, so I think I'll stick with the Moroccan kind.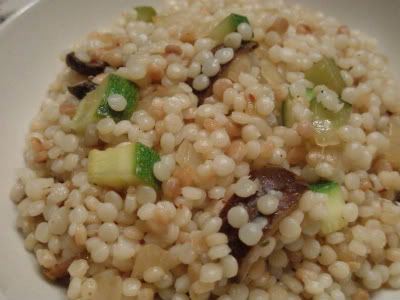 Ingredients

Approx. 3 cups Israeli couscous pearls

One yellow onion, minced

One Zucchini, minced

1 heaping tablespoon minced garlic

Approx. one cup shitake mushrooms

Generous splash sherry

Chili Flakes

Oregano

Drizzle white truffle oil

Oliver oil

Salt and Pepper



Directions

1. Put water in a large pot to boil. Heat a couple tablespoons of olive oil in a large skillet, and then toast the couscous for a couple minutes until it turns lightly golden brown and develops a toasted scent.
2. Once the water has boiled, transfer the couscous and cover. Check often, as it cooks very quickly. In the meantime, add more olive oil to the skillet, and add your garlic. Once it has started to color, add onions, zucchini and mushrooms. Pour in a generous splash of sherry, along with all of the spices. Allow to cook for approx. 10 minutes, until the vegetables are tender and the liquids have evaporated.
3. By this time the couscous should be done. Drain it, and pour in the vegetable medley. Give the dish a light drizzle of white truffle oil (if you have it, otherwise it can be skipped) and mix in.

This dish had a nice kick and some good flavors, but was screaming for an acid, which was very much absent. I'd wanted to add sun dried tomatoes, but didn't have any available at the time, so I made the dish without. I think the tomatoes would have added the necessary acid element, and really rounded out the flavors of this dish, so I won't completely blame myself…I knew it would be lacking. The only tomato product we had was tomato sauce, and that would have been way too overpowering for the couscous.
Selah.