Fondue Lo Mein
The basic idea for this dish was: "dump everything left in the fridge into the fondue pot and see what happens", and that was what I did. The one glaring mistake I made was in not re-hydrating the oyster mushrooms and dried lily buds ahead of time. I figured since they normally re-hydrate in boiling water, throwing them right in the pot would work out great…and it would've. The oyster mushrooms were fine, although a bit chewier than I like…the lily buds had a lightly bitter after taste, which I think I could have avoided by re-hydrating and draining them ahead of time.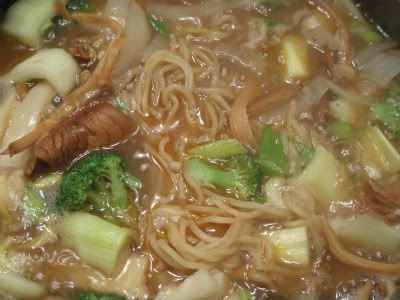 Because there were so many ingredients in the pot, this ended up being closer to a lo mein in terms of consistency, which was fine with me, I'm always up for an Asian noodle dish.


Ingredients

1 pkg. Chinese style lo mein noodles

3 cups vegetable broth

1 tbsp. fresh minced ginger

1 tbsp. minced garlic

Dash five spice powder

1 crown broccoli, roughly sliced

1 onion, sliced

3 scallions; sliced

½ cup bamboo shoots in chili oil (my favorite food)

½ cup dried oyster mushrooms

½ cup dried lily buds.

¼ cup mirin

2 tbsp peanut oil



Directions

1. While this could just as easily be made in a saucepan, I used a fondue pot, and kept it at "6" throughout the cooking process.
2. While I didn't do it, I'd definitely suggest boiling water and re-hydrating the oyster mushrooms and lily buds separately. The lily in particular can be quite bitter otherwise.
3. Heat the peanut oil in the fondue (or stock) pot, add ginger, garlic, and onion, cook until onions are translucent.
4. Add broth and mirin, once it comes to a boil, all the other ingredients can go in. Cook for 5-10 minutes and serve.
Overall this was a really good dish with spot on flavors…and in the future I'll know to prepare the lily in particular separately. Who knows? It could say that on the bag…I just need to learn Chinese. Simple….
Selah.