Veggies and Stuffing
We're coming up on Thanksgiving, and even though thanks to my work schedule I'll be spending the holiday alone, I've been feeling the need to make thanksgiving food anyway. Today's dinner really consisted of a couple sides…some simple veggies, and a vegan stuffing.
The veggie side started off with some quickly blanched green beans. The beans were then drained, and quickly sautéed with olive oil, minced garlic, baby bella mushrooms, frozen peas and corn. They got generous grinds of salt and pepper before finishing.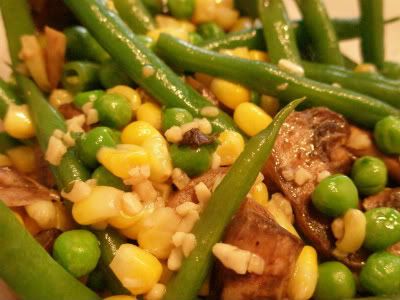 This was (very) simple and good. Add red bell pepper, onions, perhaps a zucchini, and you'll have a much heartier medley.
The stuffing was even easier, since I've made big fancy stuffings before, which were good…but I wasn't feeling that motivated today.
This started with 6 cups of vegetable stock. The stock was put on the boil, and in the meantime I added 6 baby carrots; minced, half an onion, minced, a couple stalks of minced celery, a bay leaf, oregano, sage, cumin, salt, and pepper.
While the liquid was coming to a boil, I cubed a loaf of Italian bread. The bread went into a large casserole dish, and once the stock came to a boil, it was poured on top and the bay leaf was removed. I made sure all the bread was coated, and then baked in the oven for 30 minutes at 375F. This was very moist and loose when it came out of the oven, but I'm hoping with some fridge time it'll firm up a bit. Even if it doesn't, it still tastes REALLY good.
Selah.