Yam Noodles with Peas

First off, I can't believe that I've lived in this town for more than five years, and just today learned that there is a fully vegetarian supermarket not ten minutes from my apartment. Who knew? To top it all off, the prices are more than fair, the selection is great (it's the first place we've found in the area that sells nooch…up to now, we've been getting it from Massachusetts), and it's got a full bakery and cafeteria, not to mention a second floor of herbs, spices and vitamins. SCORE!!! And now back to our regularly scheduled programming.
For lunch I decided to whip up something quick and simple with the yam noodles we got at the asian market last week. While the noodles were cooking (they're pretty much done once the water comes back to a boil) I set up some peanut oil in a skillet, and added minced, preserved garlic (a recipe from Vegetarian planet), sugar snap peas, dried red chilis, green peas, tamari, a bit of sesame oil, and some hot asian chili paste. Once the noodles were done cooking, they were drained, and added to the vegetables in the skillet.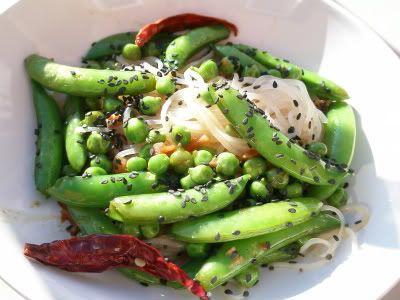 This was incredibly good, had just the right amount of kick, and was ready in less than 15 minutes…as lunches go, it really doesn't get any better than that. To top it off, my other half introduced me to "Mochi" which is this sheet of hardened sweet brown rice, that actually puffs up when you toast it, way cool!!! He preferred his toasted plain and then dipped in Braggs…but that was a bit salty for my liking. I discovered that brushing the squares with agave before toasting was simple, and much more to my taste, although sadly these were gobbled up much too fast for a picture.
Selah.