Midnight Soup
For some reason, we're very fond of soup as a midnight snack in our place. It's always a combination of veg. stock, varied vegetables, tofu, and ramen noodles. (minus the suspect-looking flavoring packet) This one wasn't terribly out of the ordinary, but was delicious and took barely ten minutes from start to finish, so I figured I'd share it with all you midnight snackers out there.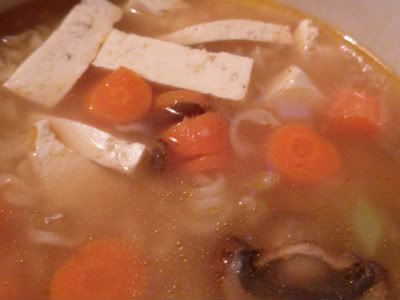 Ingredients

5 cups water

2 Veggie bullion cubes

1 tbsp. red chili paste

2 tbsp. lemongrass paste

1 tbsp. dark sesame oil

Sprinkling 5 spice powder

2 pkgs. Ramen noodles – discard flavoring packet.

Approx. 1 cup carrots, sliced into rounds

1 cup sliced button mushrooms

½ block extra firm tofu, sliced into strips



Directions

1. Crumble bullion into the water and bring to a boil. While it is heating up, add the chili paste (if you're not into spice, leave it out), lemongrass, 5 spice powder, and sesame oil.
2. Chop the vegetables and tofu. Once the water boils, add these, along with the noodles. Cover and let simmer for approx. 10 minutes.
3. Enjoy!
It doesn't need to be midnight to eat this…it would work great for any time you want a quick meal, cook some rice on the side, and you could even serve a small party.
Selah.