Burekas and Shitake Consumme
I've wanted to try out home made burekas for a couple years now, since among other things, they aren't available in the freezer section of my local market like in Israel. I'm pretty sure the standard bureka just has a layer of mashed potatoes between puffed pastry, but these were a bit more "unique", and really VERY good. The potatoes were jazzed up with fresh parsley and turmeric. In following the recipe I added a couple eggs and butter, but I'm sure they would fair fine without.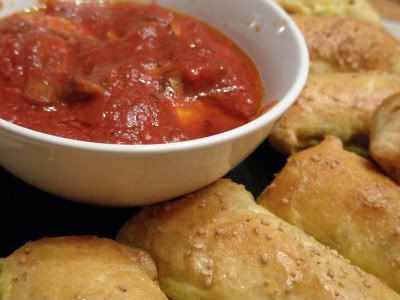 The recipe came from Joan Nathan's "Foods of Israel Today" a cookbook I've owned longer than I've been cooking, but have made very little from. I set these up with a really simple dipping sauce of sliced baby bellas, jarred tomato sauce and red chili flakes. They were an odd shape, but that's because I followed the recipe directions. In the future I think I can make them into the more traditional triangles, and while this recipe is good, I'm thinking the more traditional flavor might also be nice from time to time. I need to limit myself though…puffed pastry is like eating pure butter…or so it tastes.
The other half of this meal was a shitake "consumme" lifted from
Vegetarian Planet
. Apparently a consumme involves simmering a whole bunch of vegetables for a long period of time (in this case an hour…that's long for me) and then discarding all the vegetables and adding a couple flavors to the broth that remains. I'm not into trashing a pot full of perfectly good produce though, so this strays a bit from that idea.
The recipe called for transparent bean thread noodles, which I may have been able to find…but I had no issues using Asian rice noodles that I already had on hand. Once the broth was done simmering, I strained out the liquid and seasoned it along with the noodles. Each bowl got a couple ladle-fulls of the broth-noodle mixture, and a scoop of the reserved vegetables on top. This wasn't groundbreaking in any way, but it was definitely good with all the vegetables in the mix. I have no idea why you'd just want to throw it all out and eat plain broth…
Selah.