Pasta Fazool and Sundried Tomato Spread
I got these awesome looking Rosemary Spelt crackers, so of course I needed to make something just as exciting to slather them with. We scored a HUGE bag of sundried tomatoes last week, so the sundried tomato spread from V'con was looking pretty good. The only problem was that I didn't have any almonds…I need to stock my pantry with nuts in general…the fats are really good for my complexion...or so I'm told.
That's not just the lighting…this dip was very orange, and I couldn't tell you why for the life of me.
I used "small white beans" whatever those are (I'm thinking they're Great Northern in disguise) and ended up adding about half a cup of the liquid in which the tomatoes were re-hydrated. This is SO FRIGGIN GOOD. It's a lot like a thicker, spreadable version of tomato sauce, which is cool with me. I feel like the almonds would add a smoky element this doesn't have, but it's more than edible without, and I could always add a bit of liquid smoke. I plan on spreading it on a roll nestled around one of V'con's black bean burgers tomorrow…mmm my mouth is watering just thinking about it. As an added bonus, this stuff is practically fat free while tasting rich beyond all belief.
It was also time to try out the Pasta E Faglioli in V'con…which is apparently called Pasta Fazool in the real world…don't ask me how they got to that. I didn't realize just how simple this was until I finished making it, but I certainly can't complain. While it was quite good, my other half said a green addition wouldn't have hurt (some baby spinach perhaps?) and I was pining for a bit of spice…probably in the form of some dried chili flakes.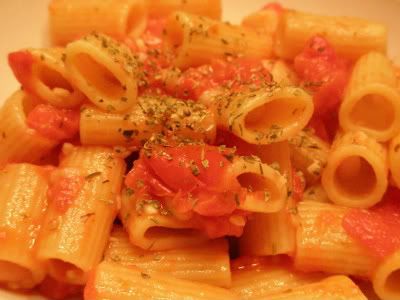 I used the same beans as were in the tomato spread, and I'd stick with my choice there. I'd definitely make this recipe again, but I'll be jazzing it up a bit with some extra veggies and a spicy kick in the future.
Selah.