Daikon Greens and Rice
If you'd mentioned daikon greens yesterday, my response would have been..."daikon has greens?" I always buy my daikon with the top and bottom chopped off...a 6 inch tube of white radish...and while I could see it had been chopped...I never really knew or wondered what I was missing.
I'd been having trouble getting my hands on daikon lately, since they stopped carrying it at the local supermarket, and the asian grocery is a bit out of my way to go on a weekly basis. Today I finally scored some at the health food grocer in town, and lo and behold...it was about 2 feet long and had these huge leafy plumes at the top...who knew?
The first thing I did upon getting home with my score, was to google and make sure the greens are indeed edible. Not only are they edible, but they're chock full of vitamins and nutrients! I'd been planning on mixing up some steamed swiss chard with rice, but in light of this new option, I decided to save the swiss chard.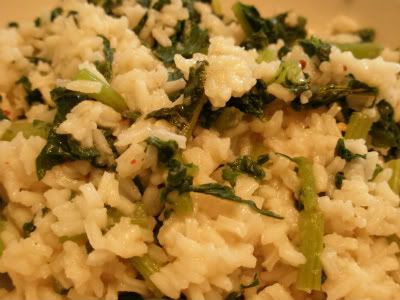 I minced the leaves, and cooked them in a saucepan with olive oil, garlic salt, and red chili flakes. Once wilted, they were mixed into some basmati rice.
The daikon greens reminded me of a cross between broccoli rabe and watercress...not bad at all. I don't know if I'd buy the greens alone...they're not my favorite leafy vegetable, but they're an awesome bonus with the daikon, and I never knew what I was missing!
Selah.