Veggie Balls, Curry Sauce, and Naan
This was another Indian-inspired meal, the main course of which came from the "American Indian Cookbook" as well. I'd decided I really wanted to make the 'vegetable balls in classic curry sauce', mostly because the name sounded kind of amusing. In the end I decided not to finish the balls in the sauce, I was worried for their safety since the recipe had warned they might fall apart, and I wanted to leave myself the option of using them in something else without the curry sauce.
If potato latkes had a cooler, older sibling, these would be them:
They taste like a cross between potato latkes and falafel..probably because (among many others) their MAIN ingredients are potatoes, onion, and garbanzo flour. They're deep fried, so not exactly a dieters meal, but I don't fry much, so I'm not all that concerned about it.
The classic curry sauce came from the same book, and looked great.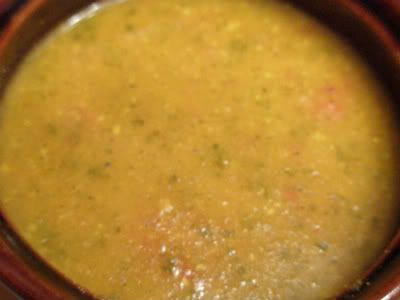 It smelled great too....But there was one major issue. I followed the recipe to a T, even measuring things out, which I NEVER do, and then left it on the stove to simmer and thicken as the recipe instructed. Only it never thickened. I waited...and waited...and waited...I added an uncalled for cornstarch slurry....I waited some more. The stuff NEVER got thick, and the end result, as suspected...tasted watery. Sigh...
More exciting, was the naan. I got that recipe from Madhur Jaffrey's
World Vegetarian
and although in general me+baking=CATASTROPHE, these came out really well. I decorated with some black sesame seeds, and in the end we had enough to feed a small army, since apparently it's impossible to make naan for two.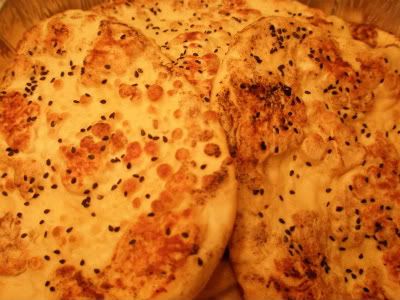 I rolled up the vegetable balls and curry in the naan and set about enjoying, cause DAMN was this good!
Selah.