Zucchini - Mung Bean Dal
I'm having a very "Indian" themed week, so you can expect a lot more ethnic food over the next few days. I'm going to be making more hot and sour soup as well, but I've blogged about it before, so I won't bore you with those details.
I started my Asian kick with the Zucchini-Mung Bean Dal from the "American Indian Vegetarian" cookbook, which is topped with some spiced onions and served up over a bed of rice. It's supposed to be made in a pressure cooker, which I of course noticed after buying all the ingredients. I decided to make it anyway, instead using a pot on the stovetop. It worked out fine, and although it was probably more "soupy" than intended, I can't say I have any issues with that. This had a nice dry spice, and while it was very light on salt…I think that's true of most Indian food.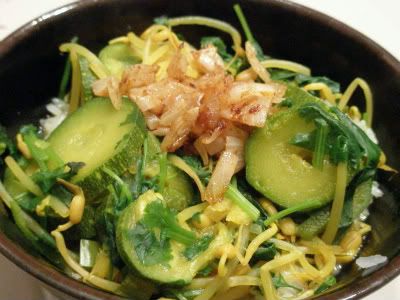 The turmeric made the zucchini look like pickle slices, which I thought was pretty cool…and which has no bearing on life whatsoever…This also would've been great scooped up with naan, but I'm saving that for another recipe this week, and I didn't want to overextend my naan-making capabilities too early.
Selah.