Mushroom Avocado Rolls
I hadn't made sushi in awhile, so I figured it was time to put together some simple rolls. I softened up some mushrooms in sherry and olive oil, and filled the rolls with a combination of shrooms, sliced avocado, scallion, and home-pickled daikon.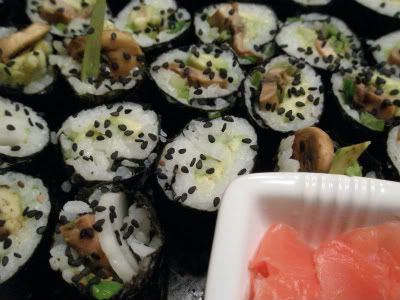 I was bummed to discover these were pretty bland…I think I like a spicy component to my sushi, or at least a less subtle vegetable. They were definitely edible with pickled ginger and tamari…but probably not a vegetable combo I'd do again…at least not on their own.
Selah.