Spicy Tempeh and Wasabi Mashed Potatoes
This was a QUICK comfort meal...one that begin when Jeopardy ended at 7:30 and was served by the time House started at 8. Rachael Ray would've been so proud.
I don't know if the average person thinks mashed potatoes when they need to put together meals in a hurry, but then I'm not the average person, so I decided to go with them. I didn't have any milk/soy milk, so these were a bit dry but still good. I mashed together the potatoes with salt, pepper, EB, and a tsp. of wasabi powder. You can't see their light green tinge in the picture, but I assure you it was there. The green stuff on top is dried dill.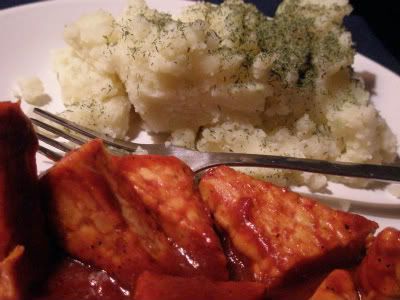 I also had a block of tempeh kicking around in the fridge, and the longer it sat, the more intimidated I was getting. Tempeh TERRIFIES me. I've had it prepared a few different ways, and the results have been everything from revolting, to delicious. The only way I've used it successfully in the past, was in the tempeh nori rolls from V'con, and then it's boiled, crushed, and mixed into a powerfully flavored sauce. I went with the "powerful sauce" idea here as well, and it really wasn't bad. A bit too chewy for my liking, but that's tempeh for you, it'll probably soften more cut into smaller pieces.

Ingredients
1 block tempeh, cut into triangles
2 tbs. peanut oil
1/4 cup prepared BBQ sauce
1/4 cup Franks Xtra Hot
juice of 1 large lemon
1 tbsp. cumin
1/4 cup merlot
1-2 tsp. liquid smoke

Instructions
1. Boil a pot of water, and add the cut tempeh. Cover, and simmer for 10-15 minutes to draw out the bitterness.
2. Combine all the other ingredients in a skillet. Add the tempeh, and move around to cover in the sauce. Allow to marinate up to half an hour. (I only had about 5 minutes this time around)
3. Put the skillet over med/high heat, and allow to simmer for ten minutes, flipping tempeh halfway through.
4. Serve!

This was VERY spicy, and you could definitely leave out the hot sauce and make it a simple BBQ glazed tempeh. The merlot sounds like a really odd addition, but it gave it a whole new dimension of flavor that I was pretty into...just make sure you're using a dry wine...nothing overly sweet. All in all this was good. Am I totally hyped about more tempeh right this second? I can't say that I am...but it's growing on me...slowly.
Selah.