Vegan Dad's Lasagna Rolls
I took this on as a challenge partially because of a co-worker, but I'm so glad I did. I work with a guy who is VERY lactose-intolerant, and we're always talking about Vegan recipes…although he will eat vegan ceaser dressing with chicken…
We'd been talking a lot about vegan cheese, and how/if it melts, when I saw the lasagna roll recipe on
Vegan Dad
and sent him the picture. He asked if I could make it, and I finally agreed to do so, and bring in a serving for him to try. This is the type of recipe I would normally either de-veganize, or simply change around enough so I wouldn't have to buy Vegan Mozzarella. Tofu ricotta I've done a number of times, so I had no issue with that, but I'm REALLY glad I kept this recipe (mostly) as is.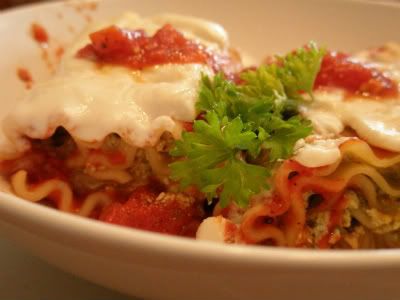 I didn't have arrowroot or vegan creamer, so I simply made a slurry of cornstarch and water. I also replaced the fresh basil in the filling with pesto that I made (from fresh basil) earlier this week. I think the pesto actually made the dish, as the filling may have been too bland otherwise.
Consensus? This was another awesome Vegan Dad recipe, and lasagna rolls in general are something I'll do again…it's SO much easier than full-on lasagna.
Selah.