Product Review : Bahama Burgers
These were new in the local health food store this week, and since they were on sale and offered up exciting looking flavors like pineapple-mango, and Mediterranean Medley, I decided to give them a shot.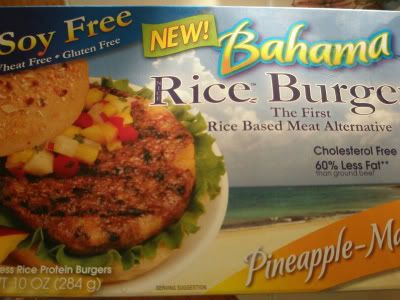 Long story short, they were GROSS. To start with, I was nuking one for my lunch (veggie burgers are usually HAPPIEST being nuked) and when I took it out, the outside "skin" had actually separated from the inside, causing the pattie to fill with air and expand like a balloon. I had to puncture it to deflate the thing...gross.
I decided to move full steam ahead, and set it up in a bun with grey poupon, nayo, and napa cabbage, my favorite combo for a veggie burger. Even through all the condiments and the large, sesame seed adorned bun, I could taste the sheer BITTERNESS of the burger. It was dry, crunchy, (in all the wrong ways), and tasted NOTHING of pineapple or mango as the box had advertised. If you've got a what gluten and soy allergy...these fit the bill, since they use neither product, but if you want my true advice...make your own. I don't care what kind of sale they go on...I won't be buying these again.
Selah.