Steamed Eggplant with Korean Hot Sauce
I had a couple of the long japanese eggplants to finish off, and was looking for something simple to do with them when I struck pay dirt in Madhur Jaffrey's
Vegetarian Planet
. Who has real Korean Hot Sauce from Korea just sitting around in their nearly-empty fridge? A girl lucky enough to have just had a visit from her friend living in Korea for the year of course!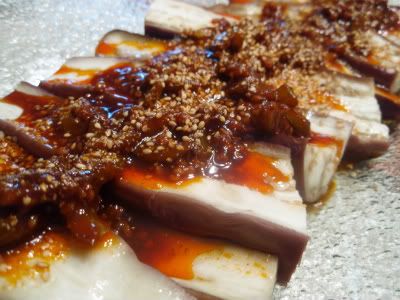 The eggplant spent about ten minutes in my bamboo steamer, which was all it took to reach perfect melt-in-your-mouth status, and the korean hot sauce was mixed with a couple other ingredients and topped with gomasio. (sesame seeds and salt). This was soooo good, it's worth having the Korean hot sauce on hand alone.
I also had to share this picture: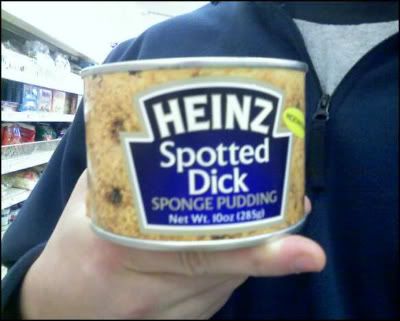 I saw it out of the corner of my eye in the "english foods" section at Shaws, and simply HAD to take a picture...too bad I only had my camera phone on me. It probably speaks to my maturity level that this gave me the giggles for a solid hour...
Selah.