Creamy Tomato Soup and Panko Stuffed Mushrooms
Tonight's V'con menu was much more successful, which I was excited about, since I'm still on a "try the few recipes you've never made in V'con" kick.
The first thing I tried out was the panko stuffed mushrooms, which I'd been eying for awhile since everything "mushroom" is a big kick around here. I'd made stuffed mushrooms before...but never Vegan ones, my past attempts have always had some kind of cheese kicking around in them. The most exciting part of these was the fresh diced daikon...I'd never have thought to put a crunchy radish in a mushroom...but it's delicious!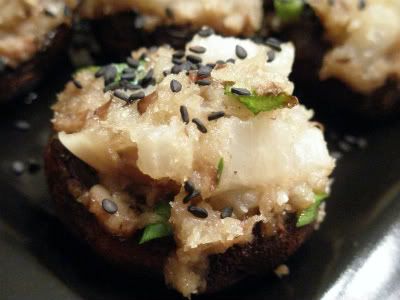 Doesn't it just look like the mushroom is beckoning to you...saying "eat me...please eat me"? Never fear, we ate all of them without issue.
I also gave the creamy tomato soup a go, and it was a huge success as well. The sun dried tomatoes are absolutely key, giving this soup a much richer and more tomato-ey taste than campbells...that's for sure. This simply felt rustic and as though it'd been cooking and developing all day, while in actuality it took me barely 30 minutes.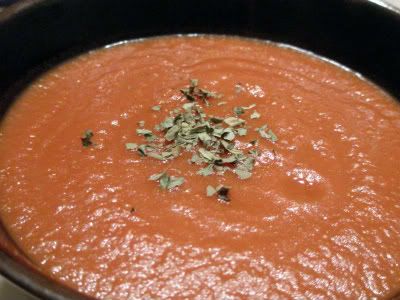 I have five words: I LOVE MY IMMERSION BLENDER.
That is all...have a good night.
Selah.