Marinated Mushrooms and a Hot n Sour Slaw
Tonight was a very "antipasti" medley of sorts. We had green olives and whole roasted garlic spread on toast as well, but they aren't pictured.
I've been wanting to try out Marinated Mushrooms for awhile, as they're a household favorite, and I'm not huge on some of the sketchy ingredients that come in your average jar. The recipe I used was from the cookbook
The Olive and the Caper
and was good...although not quite what I was after. These were very oily (not surprising considering how much olive oil was in the recipe) and the anise seed was just plain strange....next time I think an ingredient is odd...I'll follow my gut. Otherwise they're good...but it looks like we'll keep buying the jarred kind for awhile...at least until I can get my own version up to par.
The salad was in no way Greek, but still quite good. I got the recipe from
Vegetarian Planet
, and the introduction to it said that "hot and sour soup is good..but hot and sour slaw is so much better."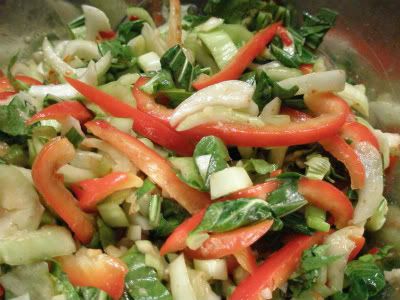 I LOVE my hot and sour soup, and not much can get in the way of our relationship. So while this salad is REALLY good, and I went back for seconds...it's no hot and sour soup, I'm sorry. If you've got the cookbook, I highly recommend it though...it is VERY good, they're on to something here.
Selah.