Sticky BBQ Wingz and Cheater Baked Beans
In addition to a nice, healthy, salad. (not pictured) last night's meal was a sugar-ridden cacophony of kid-friendly, dentist-hating food.
We started things off with Vegan Dad's BBQ Buffalo Wingz...which are absolutely AMAZING. I'd been wanting to try these off his blog forever, and with the book in my pantry, I had absolutely no excuse to wait any longer, and OMG are these good.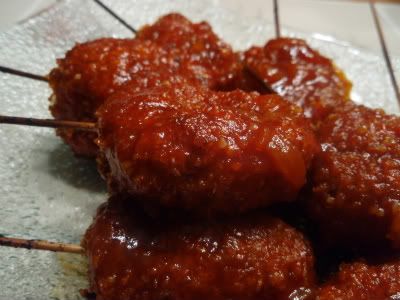 Even if you don't have the book, the recipe for these is on his website, check out
Vegan Dad
and I'm sure they're findable through his quick search bar on the side.
These had a nice crunch on the outside, thanks to the oven baked panko coating, and were deliciously chewy inside. The recipe gave two separate options for a full-out hot sauce glaze, or the homemade BBQ sauce. Unable to decide, I combined the two...making the BBQ sauce recipe with a solid half cup of tabasco...and it was perfect. I simply can not say enough about how GOOD these were. It's a bit of a pain getting the seitan to stay on the stick, but considering the result...I'd do it again in a millisecond...literally, a millisecond...and that's fast.
The second component of this meal was the cheater baked beans from V'con...and these I wasn't as much a fan of.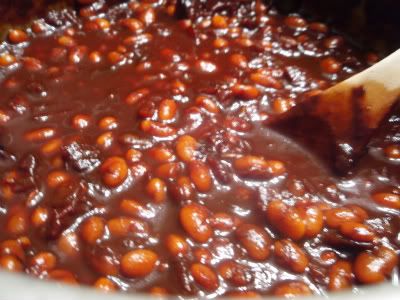 While that classic 'baked beans out of a can' flavor was in there, to me it was over-shadowed by something else that DIDN'T belong...the allspice perhaps, I'm not sure. I also think there was simply too much molasses in there...the dish stayed quite dark, and was VERY sweet....I think our pure organic mollases with no dilution or added ingredients should be used in something less than a one-to-one ratio with the icky stuff...regardless of what it says on the side. I'll probably try these again with twice the tomato, half the molasses and none of the allspice...but for now, it's not a favorite, they did a bit too much for me here.
Selah.