A little Asian Flair
The hot and sour soup recipe from V'con is a favorite in my home, and last time I made as much as would fit in the pot, so that I could put another meal's worth in the freezer for a later date. Yesterday was that "later date". The flavor and all the veggies were still as though I'd made the soup yesterday...the tofu apparently didn't freeze very well. It ended up very porous and a bit chewy, although to be honest, I'm not sure I hated it that way. With a sprinkling of green onion on top, the soup was good as new.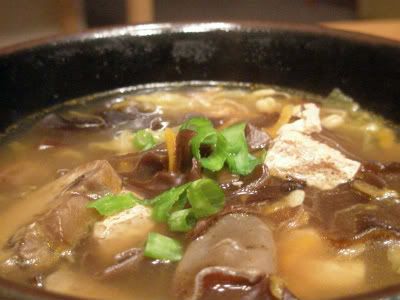 To back up the soup, I made the "baby bok choy with black mushrooms" from Madhur Jaffrey's
World Vegetarian.
This recipe was DELICIOUS! I've been making the baby bok choy recipe from V'con every time I've had the vegetable recently, but this may just trump that as a new favorite. The sauce was thick, sweet, and yet subtle. The wood ear mushrooms I used were a perfect textural compliment to the bok choy itself. WHEN I make this again...I won't change a thing.
Doesn't it make you hungry just looking at it?
Selah.