Loot!!!!
I'm sorry I've been gone for a few days...I was working the gross 3-11 shift that obliterates any chance at life, and then we lost power for about 18 hours, which makes cooking well...tough, to say the least. I actually made a really good pasta sauce while the power was out, but didn't bother trying to photograph it in the dark. I can give you the ingredients though.
White Wine and Caper "no power" sauce
1 minced onion, sautéed in butter
Heaping spoonful of minced garlic
About a cup of wine
One Veggie bullion cube
1 cup water
2 heaping spoonfuls of capers
Generous grinds of pepper and sea salt
Red Chili Flakes
Stir onions and garlic until onions are translucent. Once you've reached this stage, all the other ingredients can be added. I used Sauvignon Blanc for the wine...but any dry white would do. Turn the burner down to simmer (thank GD we have gas burners, or none of this could have happened) and allow to reduce down. The sauce is very light in general, with a great peppery taste. Pouring some brine from the capers in doesn't hurt.
Today we did lots of shopping! We hit up Thyme and Season, which is the local organic foods store, as well as the farmer's market that started its season in New Haven today, and the local Asian Market.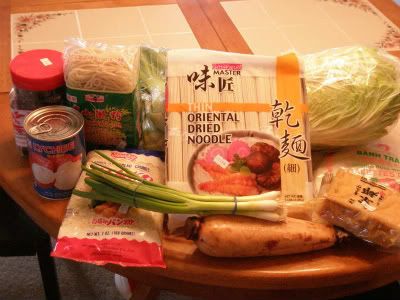 The best thing about the local asian market is that it's INCREDIBLY cheap. For under $20 bucks, we scored 6 baby bok choy, the largest head of Napa cabbage I have EVER seen, a lotus root, a bundle of green onions, some Vietnamese spring roll wrappers, Panko bread crumbs, some rice noodles, a lifetime supply of soba noodles, canned leechee, seaweed snacks, and a block of fried tofu. (my boyfriend picked out that last one). The most expensive thing on the list was the HUGE package of soba noodles at a measly 4 bucks, and there's about 16 meals worth in there.
Then there was the farmers market, which I was bit disappointed in (I'd hoped it would be bigger with more selection) but there were still some pretty sweet finds.
That loaf hanging out in front is cinnamon/raisin, and I could literally smell it as we walked UP to the farmer's market...and it wasn't even in the first tent. The entire loaf is covered in cinnamon sugar, and while I can't wait to rip into it...I'm sure my dentist (who I visited this morning...cavity free, yay!) would have a heart attack. We also got a sweet sourdough baguette that will find its purpose in the Vietnamese Seitan Baguette recipe from V'con tonight.
The rest was all in the green. I bought a rosemary plant that I hopefully won't kill immediately (I have the opposite of a green thumb, it's horrible) but turned down my boyfriends request to buy a cilantro plant the size of a large fern. GD knows what we'd do with that much cilantro...never mind where we'd put it...AND I'd probably kill it before we got our money's worth anyway. We also scored some organic mustard greens, kale, escarole, spring rabe, and a HUGE bunch of basil. (pesto anyone?)
The cooking will commence after jeopardy...
Selah.