Salad and Sandwich...it's too hot for soup
Tonight's dinner was pretty eclectic. One of my bosses at work is a Veggie who eats fish and shellfish, and we often exchange recipes. Thinking I eat shellfish (I don't) the other day she gave me a recipe for a mango/shrimp cocktail from Rachael Ray's morning talk show. I looked at the ingredients and decided it wasn't a total throwaway, and that I could replace the shrimp with a light vegetable.
I was thinking kohlrabi would be a good stand in, but as luck would have it, between the farmers market, the health food store and the Asian market...I couldn't find any. I did however see lotus root at the Asian market, and decided that might work as a stand in...if nothing else, it's cool looking. I changed Rachael's recipe enough that I'm ok posting it...so I'll do that here.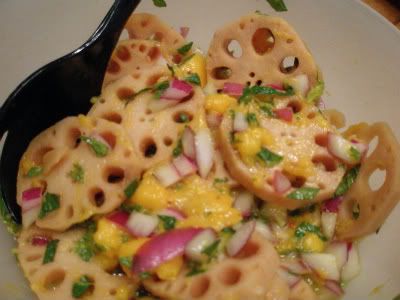 What I did, was as follows:
Peel lotus root, and slice about 1/6 of an inch thick. Boil the slices of lotus root in water and a couple splashes of rice vinegar, with a lid on the pot...for about 20-25 minutes.
In the meantime, cut up one mango into chunks, and mince half a small red onion. Roll up a healthy handful of fresh mint, chiffonade and mince.
Make a vinaigrette out of lime juice, olive oil, salt, pepper, and red chili flakes.
Once the lotus root is done, toss it in with the mango, onion and mint, than mix in the vinaigrette. This was good...but I think I undercooked my lotus root a bit, it still had a little bite to it that I'm not huge on.
The sandwich was the Vietnamese Seitan Baguette in Broth.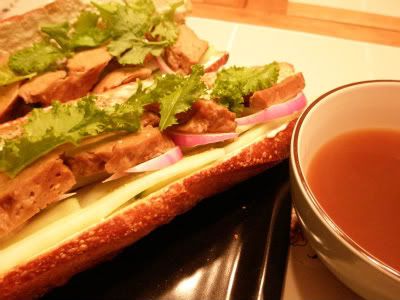 I used the sourdough baguette we got at the Farmer's Market today, and replaced cilantro with mustard greens, which I rather liked. The taste was awesome, but it was a mess-and-a-half to eat, and hard to get your hands around. I don't think I'd change it though...the whole thing just tasted so darn good together.
I also learned something new today in looking for Nayonaise...apparently it's now just called "Nasoya Spread" and comes in a very different looking jar. The clerk assured me it's the same thing, and it tasted the same to me, so I have no complaints.
Selah.