Take THAT morningstar!
So I have to admit something to you all before we go any further. I AM AN........morningstar veggie burger lover. The first bite I had of their mushroom lover's burger began a not-so-secret affair of which my boyfriend should be jealous...if he isn't already. They are SO good, and as I discovered looking at the side of the box...SO BAD. The fact that they aren't totally Vegan doesn't really bother me, after all, neither am I. The fact that the entire second HALF of the ingredient list is made up of chemical compounds, preservatives, and colors does.
So I decided I was on a mission. I was going to make my own mushroom lovers burger, it was going to taste exactly the same as theirs, if not BETTER, and it wouldn't have any of that gross fake stuff my body hates. I wrote down the ingredients on the box, stopping about halfway down where the names start to get longer than my vocabulary. Because they included a very vague ingredient called "spices" I had to do some improvising of my own. I also didn't have the sweet red peppers they listed, so I went with some green bell instead. The soy protein and wheat gluten was replaced with vital wheat gluten and nutritional yeast.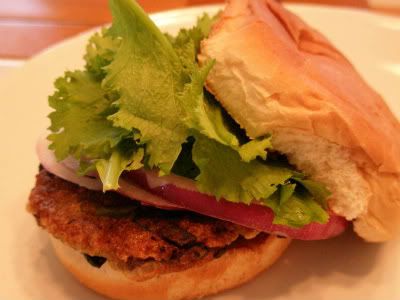 I won't lie...mine aren't bad. Are they the same as Morningstar's? They aren't...yet. The taste is actually pretty close, I'm having more of a texture problem. Because my mixture was very wet, I kept adding more and more wheat gluten to try and soak it all up. The end result of that created a very "chickpea cutlets from V'con" sort of texture, chewy and almost spongy...good, but not what I was going for here.
They are definitely edible, and quite good, so I will post the recipe. (And anyone who wants to try it out and tell me what measurements they used, that would be highly appreciated) I do think I'd use MUCH less oil, if at all, because the mixture was very oily.
Ingredients
2 large button mushrooms; minced
1 portobella cap; minced
balsamic vinegar
1/4 cup nutritional yeast
1/3 cup vegetable oil
2 cups vital wheat gluten
2 egg whites
Half bell pepper; minced
Heaping spoonfull garlic
1 cup water
Salt
Pepper
Chili flakes
Cumin
Mesquite seasoning
Instructions

Sautée mushrooms and garlic in oil, a generous splash of balsamic vinegar, mesquite seasoning, and salt until cooked through.
Pour cooked mushrooms into a bowl and combine with ALL the other ingredients. I did all the dry ones first, then added the water, egg whites and oil.
Mash everything together with hands, and then form balls. Flatten the balls into 1.5 inch thick patties, and fry in the oil, approx. 4-5 minutes on each side.
It is very important that you mince the vegetables very small, or they will not mix into the patty and will simply separate out while cooking. I experienced some of this.
They're great on a toasted bun, although the supermarket ones we've got at the moment are a crime towards homemade veggie burgers. I enjoyed my burger with grey poupon on top, barbecue sauce on the bottom, and some red onion and mustard greens. Yum!
I will be trying these again at some point to try and correct the texture, so I'll let you all know how it goes!
Selah.