Soul Soup in the Summer!!!
Yes...it's summer, and yes, I realize that's not "warm the heart" soup season. I'm about 4 months late...either that, or I'm getting ready for next winter several months early. However, yesterday wasn't overly hot by the time the sun set, and in checking out the pantry, I discovered I had all the ingredients for the chickpea-noodle soup from V'con...something I've been wanting to make for awhile.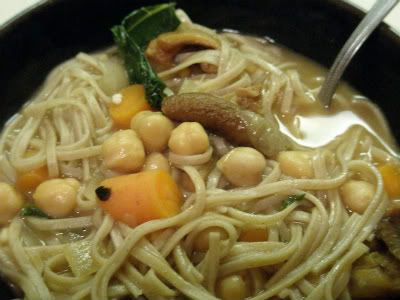 I didn't have cremini mushrooms, so they were replaced by oyster (mushrooms), a texture I rather relished in the soup. (That's right, I just used the word "relish" as a verb!). I also shredded up a single leaf of kale because the pot seemed to be crying out for something green. Unfortunately (or perhaps fortunately) I poured in an entire package of soba noodles, which in hindsight were probably two to three times more than the recipe called for. In exchange for this indiscretion, the noodles soaked up almost all the liquid, and our soup was more pasta dish than well...soup. Never mind, it was still REALLY good...and totally heart warming.
I had a head of escarole from the farmer's market, and decided I wanted to do something with it. (I'd never cooked escarole in my life). I didn't have any white beans, but figured I could use the V'con recipe anyway, and simply omit those...after all, I wilt down greens all the time, it was bound to be good.
Well...it probably WOULD have been good had I not burned the last of my garlic into black char, and decided to still use it. For some reason, I thought that would work out, and the char would magically vanish...but long story short, it didn't.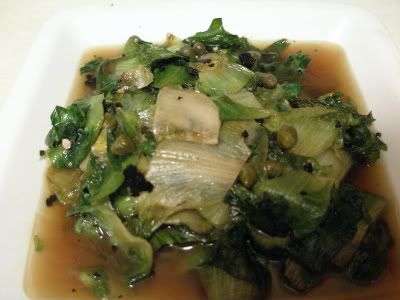 The escarole itself wasn't all that bad. Picking off the hunks of charred garlic however...not that good. Moral of the Story: If you screw up, start over, don't assume more ingredients will simply drown out the mistake. I will make this again...minus the whole burning part, and will then report back.
Selah.