Mashed Potatoes, BBQ Tofu and Zucchini Bread
I was in the mood for a very classic American, comfort food style dinner. To me (feel free to disagree) the best comfort food on EARTH is a big bowl of mashed potatoes, and I made a big pot of it tonight so I could do just that. I kicked it up a notch by putting a handful of fresh thyme leaves into the potatoes before mashing. Otherwise they were completely traditional...butter, milk, and a generous grind each of sea salt and black pepper.
As you can see in the picture, I'm VERY partial to a generous dosing of dried dill on my potatoes, and never eat them without it. In combination with the thyme, it was even better.
I also made the carrots that I posted about
here
to back up the mash.
The "entree" so to speak was BBQ tofu, the instructions lifted from V'con. I used the BBQ sauce that was in the fridge (I forget what it's called, we're trying a new kind...it's GOOD though). The key to this recipe was definitely pressing and then squeezing the liquid out of the tofu, since it allowed it to get nice and chewy in the oven, and I LOVE chewy tofu.
It may not look like much (tofu never does) but boy was it good. The solid kick in this particular BBQ sauce didn't hurt either.
Last but not least, I decided to make zucchini bread, since the banana variety was such a success. Since the recipe was for two loaves and I still only have ONE loaf pan, rather than half it, I used my brownie dish. It actually worked out great, since it's a pretty deep brownie square anyway, and fit all the batter perfectly.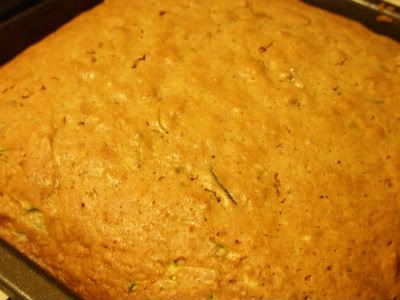 The recipe I used, found at
AllRecipes
called for cooking the bread "60-70" minutes. Perhaps it's because I used a more shallow pan, but I pulled a clean knife out after 45. Overall it was a bit dry, probably due to being left in the oven longer than necessary. It was still very good though, and is still being nibbled on as we speak.
Selah.