Yuca-less, Jamaican Yuca Shepard Pie
I decided to make the yuca shepard's Pie from V'con, only to discover that there was definitely no yuca to be found anywhere in the vicinity. I decided to use additional sweet potatoes instead of the yuca, and to replace the Scotch Bonnet peppers (which I couldn't find either) I minced up a habenero and a half. I didn't have a Jamaican curry either, so I just used my standard Turkish one.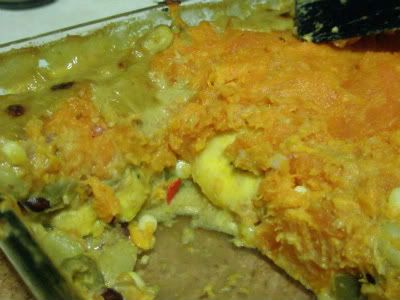 Other than that, I kept everything as it was, and I must say that this was really good. It's a very hearty dish, and with so many veggies and vitamins, who needs supplements or a salad? I haven't really seen this dish getting as much press as other V'con ones on blogs and such..so if you have the book, (and if you don't WHAT ARE YOU WAITING FOR???) I HIGHLY recommend that you give it a shot. If you don't want it to have a serious kick, obviously leave out the habaneros and try out a different pepper or a complete omission of that ingredient. I apologize that it's not very photogenic...but then most comfort food isn't. I mean really..think about it.
Selah.