Simple Pasta Supper
I can't really take any credit for tonight's dinner, unless it's for the chopping, since that was my contribution. Other than that, this was my boyfriend's creation, and I'm more than happy to give him his credit due. This was quick, simple, and filling, not to mention it used up a couple things that were languishing in the fridge.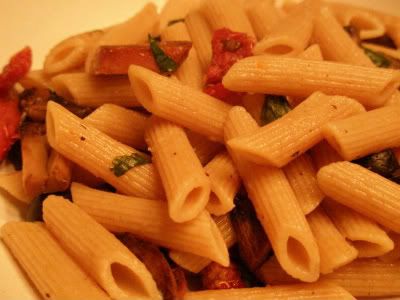 The pasta is a whole wheat penne, which is awesome because until recently (the last six months or so) it never occurred to me to eat whole wheat pasta…since as it turns out it's much better for you, AND tastes exactly the same. (At least to my tastebuds). It's a little more expensive, but if you wait until it goes on sale and stock up, it's not a big deal. While the pasta was boiling, we sautéed a few button mushrooms, sun dried tomatoes, garlic, basil, and a Yves jumbo hotdog, sliced, in extra virgin olive oil, salt and pepper. Neither of us had tried the Yves hotdogs before, and I can't say that I'm a huge fan. I don't love fake hot dogs in general, but this one had an eerily "real" texture that I didn't love, along with a slightly odd after taste that very much turned me off. We think it was a bit undercooked, so we'll be trying to incorporate the remaining four into other dishes, but I don't think it's something I'd buy again. Granted my boyfriend bought them…so perhaps saying
I'd
not buy them again is a bit inaccurate.
All in all, this was good, and with a bit off added olive oil and chili flakes, I quite enjoyed my portion. The fresh figs for desert certainly didn't hurt.
Selah.