Guy Fieri's Veggie Burger
There are a few reasons I love Guy Fieri so much. One is his personality...he's just plain cool, and he brings some much needed life to the food network morning line up. The other big reason? While he's not Veggie, his sister IS a long time vegetarian, and he's very good with supplying Vegetarian entrees that I can try out.
The original recipe for these can be found
here
, although I must admit mine don't hold their shape nearly as well as his appear to.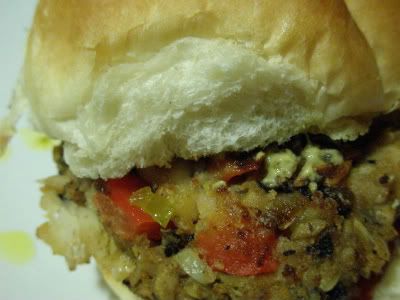 I also made a couple changes, so I've pasted his recipe below along with my own alterations that you can try out. (or not)

2 ounces olive oil
3 tablespoons diced red onion1 whole white onion, diced
2 tablespoons diced black olives
2 tablespoons diced red bell peppers
teaspoon diced jalapenoHalf habanero, minced
1 1/2 tablespoons diced garlic
1 tablespoon diced artichoke
4 ounces black beans, drained
4 ounces chickpeas, drained
4 ounces white beans, drained
6 ounces rolled oats
1/2 teaspoon Hungarian paprika
1/2 teaspoon chili powder
1 teaspoon dried oregano
1 tablespoon minced fresh parsley leaves
1/2 teaspoon red chili flakes
1/2 teaspoon ground cumin
2 teaspoons celery salt1 teaspoon sea salt
1/4 teaspoon ground sage
2 tablespoons seasoned bread crumbs
1 egg

In a medium saute pan over medium heat, add 1-ounce olive oil and all raw vegetables except beans. Saute until translucent. Remove and cool.

Put beans in a large mixing bowl, and mash coarsely. Add veggies to beans and mix thoroughly. Add all dry ingredients along with the egg. Thoroughly mix all ingredients and form into patties, cover and refrigerate for 30 minutes.

In saute pan add 1-ounce olive oil, and cook patties 2 to 3 minutes per side.
They were served up with a couple kosher dill spears and a glass of pomegranate iced tea....mm perfect.
Selah.