Sweet and Sour Yam Noodles
I'd never tried, nor heard of, yam noodles before I saw them in the Asian market last week. Apparently they were very popular during the anti-carb craze...which I never got into, so I guess there's no reason for me to have heard of these. I thought they looked interesting when I came across them recently, and bought a package to experiment with. I also had some napa cabbage and tofu in the fridge that needed to go, and so I set out on a quest for the perfect recipe. Enter
Fat Free Vegan Kitchen's
Hot and Sour Shirataki Noodles...perfect.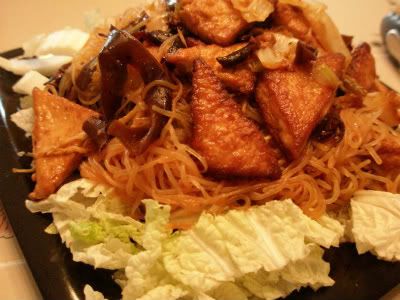 I made a couple minor changes, but kept the majority of the recipe the same. I chose to replace the white button mushrooms with reconstituted wood ears, which as a pleasant surprise, had nearly the same texture as the noodles themselves. In addition to using the napa cabbage as a bed for the dish, I sauteed a few leaves with the other vegetables and noodles.
Overall, this was absolutely delicious, and now that I know how good (and low in calories) the yam noodles are, I'll definitely be picking up more in future trips to the Asian market.
Selah.