Snacks for Dinner
Making hummus from scratch is something that I've been meaning to do for a long time…and never quite got around to. Now that I've finally done it, I don't think I'll ever stop. This stuff is DELICIOUS, although I'll be honest, the first time I had it, I thought it was missing something. A day and a half later when I ate the remainder with some warm pita, it was perfect. *NOTE TO SELF* Always make hummus a day in advance.
Now if you're going to make real Israeli hummus (and I wouldn't do anything else) you need to serve it in a shallow bowl, and smooth a well into the middle. Sprinkle paprika over the entire thing and then fill the well with extra virgin olive oil. The pita MUST be warm, and tearing is the only worthwhile method for this treat.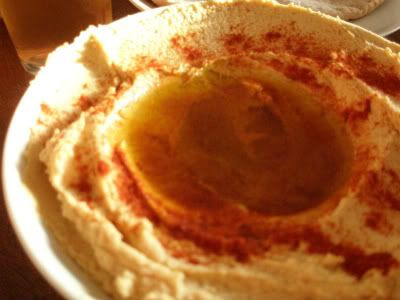 Ingredients

1 can chickpeas - drained

2 tbsp Lemon juice

5 tbsp Olive oil

2 tbsp Tahini paste

Salt and Pepper



Directions

1. Put all the ingredients in a food processor, and pulse until smooth. Add olive oil until the texture looks right.
2. Pour the hummus into a bowl, create a well, sprinkle with paprika, and add olive oil.
3. Heat your pita!!!
I also made a tomatilla salsa, which was pretty exciting since I'd never had the opportunity to make anything with tomatillas before. I scored them at the Co-op in Vermont, so unfortunately there probably won't be more tomatillo recipes anytime soon. I'm sad I don't have normal access to them, because the salsa was really good, and scooped up with homemade pita chips…even better.


Ingredients
4 tomatillos, diced
2 shallots, diced
1 large jalapeno, diced, with seeds
Splash Olive oil
Splash lemon juice
Salt and pepper



Directions

1. Chop the vegetables, and put in a bowl. Add the oil, lemon juice, salt and pepper, and mix together.
2. Chill for half an hour. This is VERY important, because it allows the flavors to really meld together and intensify.



Pita Chips

Take 2 whole wheat pitas, split, and cut into triangles. Brush both sides with olive oil, and sprinkle one side with zaatar.

Place in a 400 degree oven for about 6 minutes. Keep a close eye on these, because they will burn FAST.


Hooray for snacks for dinner!
Selah.