Steamed Vegetable Dumplings...de-constructed
I gave the steamed vegetable dumplings from Madhur Jaffrey's
World Vegetarian
a shot tonight, and remembered why I'm not huge on most dumplings. I love those thick white dim sum buns filled with sweet bean paste, but dumplings…not so much. I've always thought they were kind of bland and gummy, and these were no different.
The simple dipping sauce I made to accompany these (shoyu and rice vinegar) made them edible, but other than that, they were forgotten by the time I finished chewing, they were
that
boring. These were also a LOT of work considering the mediocrity of the result, and I don't think I'd put the time in again.
Since there was so much filling leftover, I had to do SOMETHING with it. The mixture that went into the dumplings wasn't spiced in any way (per the recipe) so I added some mirin (to deglaze), hoisen, hot chili sauce and five spice powder to the mixture. Peas went in as well…which were not in the dumplings.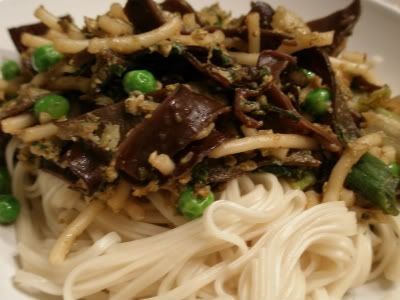 I served up the mixture over soba noodles, and the flavoring was good for me, although my other half did add some Braggs…he's a salt fiend though, so I wouldn't judge anything by him unless you're sodium obsessed too.
Selah.