Stuffed Mushrooms and Green Curry
For some reason I've had NO appetitive the last couple days. Throughout the day I have less than zero desire to eat, and when I force myself to do so, I can only choke down a few bites before feeling like I am about to explode. Considering I usually eat enough for two…this is VERY much out of the ordinary. That said, I still feel compelled to cook, and I fulfilled that need tonight with a couple more recipes from Madhur Jaffrey's
World Vegetarian
.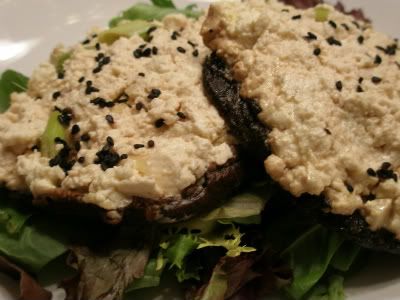 This is a bean curd stuffed portabella mushroom, which I decided to serve up over greens. Sadly it was pretty bland, even with the included sauce, although that could also be the lack of appetite talking. I felt this would've benefited quite a bit if the portabellas were marinated prior to stuffing and cooking…there's just no equivalent to that kind of flavor.
The mushroom and pea curry on the other hand, was delicious. (Although I could still only get a couple bites down) To be honest, I don't know what the original recipe would taste like…I made a number of changes. I didn't have the green chili called for, and replaced it with a generous dosing of cayenne pepper. I didn't have any cilantro either…so it was omitted. There were also a number of steps and orders to be followed…but I wanted a simple one pot meal, so I threw all of that out the window. I also replaced the cream called for with regular low fat soymilk, which I was a bit concerned about, although it turned out fine.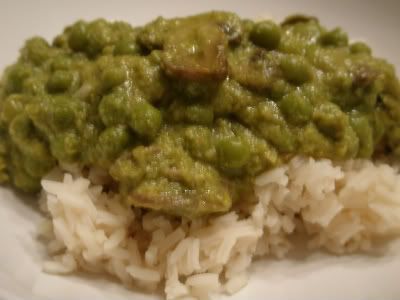 My complete disregard for the instructions didn't seem to hurt this…it was still quite good, and I'm looking forward to the leftovers at lunch tomorrow…assuming my appetite is back.
Selah.