Fennel Orange Salad and Sopa de Ajo
I found a Sephardic cookbook in the library last week, and just had to check it out. For those unfamiliar, Jews are basically divided into two groups based on their family origin. More well known around these parts are the Ashkenazim....or Jews from Eastern Europe. We have the Ashkenazim to thank for quintessential Jewish dishes like kugel, matzoh ball soup and latkes. The Sphardim are quite a different bunch, hailing from Spain/South America and the Middle East. Don't ask me how Moroccans get grouped in with Argentinians...I don't know. Sephardi food is very different from the classic Ashkenazi "Jewish Grandmother fare" with a lot more spice and less fat, and is in my opinion....better. *removes soapbox, steps down*
The first recipe I made was a simple orange and fennel salad with LOTS of orange. We're talking orange zest, orange juice, and the insides of the oranges. (I supremed beautifully in case you were wondering.) Considering I don't like orange juice or most orange flavored foods (weird, I know) I REALLY liked this salad. The anise flavor of the fennel with the crisp leek and the citrus-y dressing just made me happy...literally, it must be all the vitamin C.
The main course was a sopa de Ajo, which in laymens terms is a yogurt and garlic soup. The whole affair sounded a bit strange to me, but it involved swiss chard which is quite possible my favorite leafy green, so I figured it couldn't be all bad.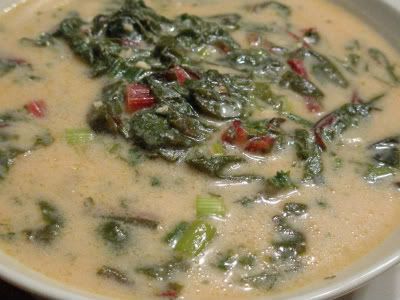 It turns out that it's all good. It was rich and creamy, and absolutely DELICIOUS. I liked this soup A LOT, and while there was certainly nothing wrong with the yogurt, for a slightly thinner and easy Vegan alternative, I might try out a coconut milk version at some point.
Selah.