Penne a la Vodka
I got all my ingredients out on the counter tonight, and proceeded to make the penne a la vodka from
V'con
. Just as I'd begun simmering the sauce, my other half walked into the kitchen and saw the handle on the counter…six shots later, dinner was ready.
While this certainly wasn't bad, it was missing the creamy component that bottled vodka sauce usually gets from cream. The recipe called for sliced almonds as a replacement, which were then pureed into the sauce, and meant to retain a bit of texture. In retrospect I have to say I simple don't love a lot of texture in my tomato sauce…and almonds taste nothing like cream. I have had a lot of success with cashew creams in the past…I could see giving that a shot, but I'm more apt to go with soy creamer first,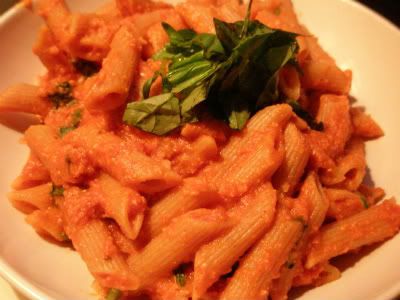 The fresh basil was really key to this, and the whole wheat rigatoni pasta we used added some nutrition, so I could even call it a healthy meal…
Selah.