Slow Cooker Chili
Since I saw my first snow of the season last week (it didn't stick...thankfully) I've officially deemed it chili season. I made chili in a pot last year, and kept an eye on it all day long to make sure I didn't burn my apartment down in the process...this year, I have a slow cooker! I scored the Hamilton Beach model for $10 on black friday, and today's chili is it's first run 'round the block. I got a slow cooker recipe cookbook from the library today, so I have a number of options for its next adventure.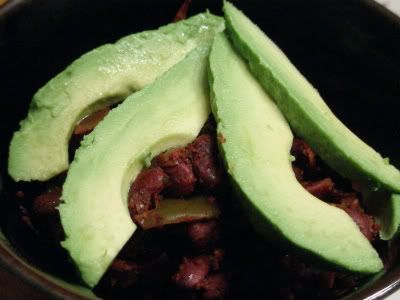 The chili was topped with some avocado and Nooch...I wanted to make a guacamole, but the avocados were still too firm for mashing, but that doesn't mean they can't be enjoyed sliced and diced.
The one thing I always keep constant in my chili is using V8 as the liquid...I already know I like the stuff, there's always a box-full in my pantry, and it comes pre-seasoned, how could I lose?
Today's combination was as follows:

Ingredients
1/2 lb dried kidney beans
1 lg. onion, diced
2 plum tomatoes, diced
1 green bell pepper,diced
1 jalapeno (with seeds) minced
1 pkg tempeh, diced
3 cans V8 juice
2 heaping tablespoons minced garlic
1.5 tbsp. garlic salt
1 tbsp. black pepper
1 tbsp. dried basil
1.5 tbsp. cumin

Directions
1. This is the best part of having a slow cooker...dump EVERYTHING in, turn to high, and forget for 6 hours.

Have I mentioned it also makes the apartment smell like chili-deliciousness all day? I may never make a 30 minute meal again...
Selah.