Asian Crustless Quiche
This meal was doomed. It tasted really good, and was a great way to use up some leftovers on shopping night, but it was definitely doomed.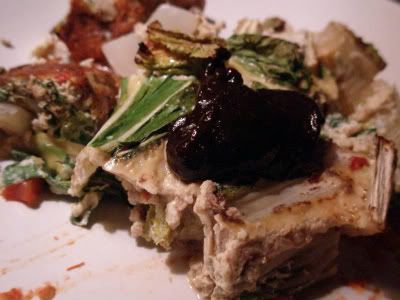 I chopped up a bunch of leftover bok choy, along with a handful of mushrooms, and added to it milk, eggs, hot Asian chili paste, five spice powder, and salt and pepper. The concoction went into the oven for 45 minutes at 375F and was served topped with black bean paste.All good, except that when I tried to remove a slice with the wrong implement it fell apart...as evidenced by the picture.
I would've taken a better picture when I had seconds, except for one small hitch, after we each had a single slice, there may have been a small accident in which
someone
kicked the remaining 3/4 of the quiche off the coffee table, and onto the floor...upside down. Apparently we need to start keeping food above "foot reach" Sigh, I saw so many great things to come for this, and its life was cut short much too soon...
Selah.