Pistachio Encrusted Tofu
Last week, we went out for our two year anniversary and had a delicious and expensive dinner at a restaurant/lounge in New Haven. When the waitress rattled off the specials of the evening, one was a pistachio encrusted tilapia, and that gave me an idea. Pistachio crusted tofu of course!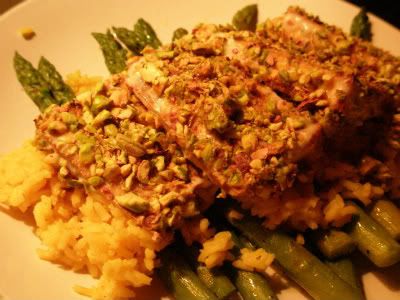 The only real issue with this meal was a serious case of over-salting…at least I thought so. I salted the tofu, salted the lemon-caper mayo I coated it with, and the pistachios that went over that were salted. The stock in which I cooked my saffron rice was full of sodium…and I sautéed the asparagus with salt, pepper, and cumin. I'm really not sure what I was thinking. Regardless, I'll share the recipe minus some of the salt…because it was a great idea, and worked out as I'd hoped it would.
Ingredients

1 block extra firm tofu

1 cup rice

Approx. 15 stalks fresh asparagus

2 cups vegetable stock

1 cup shelled pistachios, pulsed in food processor

1 tbsp. saffron powder

¼ cup nayo

2 tspns large capers, minced

1 tbsp. lemon juice

Salt and Cracked black Pepper

Cumin



Directions


Press tofu for approx. 1 hour. Preheat oven to 375. Slice the tofu into eight thin rectangles and lay out on a greased baking sheet or casserole dish. Rub each slice with pepper and cumin, and then bake for 30 mins on the first side, 15 on the second.

In the meantime, bring saffron and vegetable stock to a boil. Add 1 cup rice, cover and reduce to a simmer, so that it cooks.
Bring some water to a boil in a skillet, and add the asparagus. Blanch for two minutes, then drain the water, and finish with olive oil, salt, cumin, and pepper.

Mix together nayo, capers, lemon juice, and pepper to make a sauce. Once the tofu finishes baking and cools a bit, coat each slice in the sauce, then coat with the pistachios.

Serve! Altogether this was really good…and I've eliminated salt from a couple steps here, which should eliminate my one large issue with it…so enjoy!
Selah.