Orange Seitan
Orange Beef is another popular Chinese dish that I remember from my childhood...and since I was making some seitan for a sweet and sour dish coming later this weekend, I decided to double the recipe and make some orange seitan over rice as well.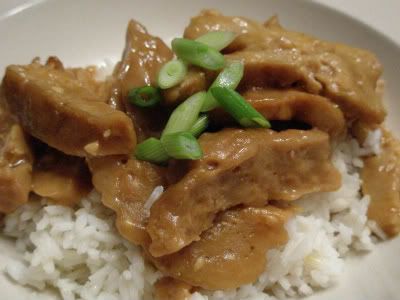 I used the simple seitan recipe from V'con as usual, and then sliced it into strips which were sauteed in peanut oil. The sauce was a combination of 2 parts OJ, and 1 of equal parts sherry and shoyu. I mixed in about a tablespoon of cornstarch, and then added it to the seitan in the wok. About a minute later it had reached the correct consistency.
Not counting the seitan which was made earlier in the evening, this meal took barely ten minutes to make, which is good...because that mustered all the motivation I had.
Selah.