Breakfast Veggie Chorizo
So I've owned Veganomicon for what feels like forever, and it is my kitchen BIBLE...but I only obtained Vegan with a Vengeance as a belated Chanukah present last week. The first recipe I made? Breakfast Veggie Chorizo of course! I'm pretty sure the true test of any cookbook is how good its breakfast recipes are...I LOVE breakfast.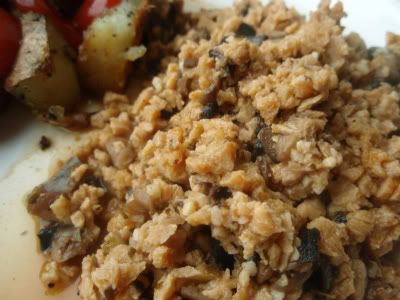 I didn't have any onions, so the onion was replaced with about a cup of baby bella mushrooms...minced. The only other change I'd make is eliminating the tablespoon or so of sugar that was called for...the "chorizo" was a bit sweet, which isn't necessarily a flavor I want at breakfast...unless I'm having sugary bad-for-me cereal.
Those are hash browns with ketchup you can see off to the side..they were delicious, but nothing new....I've done hash browns plenty of times before, and I didn't think they warranted a blog entry, just know that they were good.
Selah.