Maple Roasted Winter Vegetables
I love roasting vegetables, and it's not something I normally follow a recipe for, but these maple roasted ones from VwaV just sounded too good to pass up.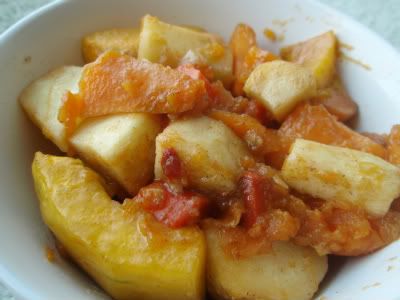 I was right...they are too good to pass up. The only warning I have about these is that they're pretty sweet, so you can't eat a huge platter at a time (something I must admit to having done with roasted veggies) but they make a great side dish for a more savory course. The other mistake I made was cutting the squash chunks MUCH too large and throwing them into the marinade before I realized my mistake, so everything else is bite sized and the butternut squash is well...big. Oops.
Two thumbs up though...not that I'm surprised, I expected this to be good before I began.
P.S. I also have some bacon tempeh marinating in the fridge, so I'll fry some up for breakfast tomorrow and report back....
Selah.