Javanese-ish Noodles
Originally, I was trying to make the recipe for Javanese Noodles from Madhur Jaffrey's
World Vegetarian
. I'm not entirely sure what her dish was supposed to look and taste like, because apparently it was written above a BA reading level, and I got totally confused and lost at some point. Since I'd already had to replace a couple ingredients due to availability, I figured "what the heck" and ended up doing my own thing, which was a pretty standard spiced pasta dish. If you've got the cookbook and want to try and figure out the real thing…go for it. Then let me know how it's supposed to taste. This is what I made: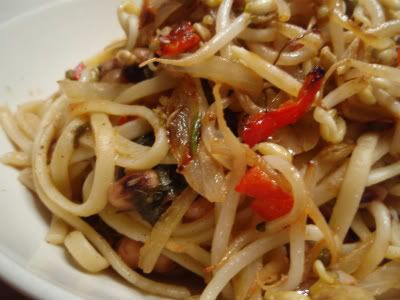 And this is (more or less, to my memory) is how I made it.

Ingredients
1 lb fettuccini noodles, cooked al dente.
3 large tomatoes, diced
1 13 ounce can black eyed peas
Approx. 20 basil leaves, julienned
½ cup minced cilantro leaves
3 shallots, peeled and sliced thinly
1 cup mung bean sprouts
2 manzana chilis, seeded and minced
2 tablespoons tamarind paste
1 tbs. ground asafetida
2 tsp. ground mustard
1 tbs. curry powder
4 tablespoons peanut oil
Salt
1.5 cups water

Directions
1. Put a pot of salted water on to boil. Once it has reached a rolling boil, add the noodles.
2. Heat a large skillet over medium heat, and add 2 tablespoons of the peanut oil. Once the oil is hot, add the asafetida, 1 tsp of the mustard and all of the curry powder. Allow the spices to toast for about a minute before adding the shallots, one pepper, and basil. Sautee until the shallot is translucent.
3. Add the tomato, beans, and 1.5 cups of water to the shallot mixture. Stir, bring to a boil, and then lower to a simmer and cook, covered, for 7-8 minutes or until tomatoes have broken down into more of a sauce.
4. Uncover the sauce, and add cilantro, tamarind paste and salt, to taste. Stir again, and cover, allowing to simmer for 15 minutes this time. If the sauce looks too thick, feel free to add a bit more water.
5. While the sauce is simmering, pour remaining peanut oil into a small/medium skillet over low/medium heat. Once hot, add the peanut oil and 1 tsp. of the ground mustard. After 30 seconds, throw in the two remaining shallots, pepper, and mung bean sprouts. Sautee for about 5 minutes and then turn off the heat.
6. Drain the Pasta, and pour into a large bowl. Add the sauce that's been simmering, and mix well. Top each individual serving with the mung bean mixture. Enjoy.

I under salted this a bit, so if you're giving it a shot, try not to make that mistake. Fortunately, you can always add salt on individual servings, so it wasn't a big deal. When push comes to shove, the topping was definitely the best part of this dish. I loved the crunch of the bean sprouts interspersed with the noodles, and as usual, I was a fan of the kick from the peppers. I do wish I knew what the dish was ACTUALLY supposed to look/taste like, but as meals go, I was fairly happy with my own rendition. I might also increase the tamarind to 3 tablespoons, or add a bit of lemon juice for some additional acid, but it's not totally necessary.
And what part of the world does Javanese refer to anyway? Sorry if that makes me look un-educated, I've heard the term before but really don't know…
Selah.