Pepper Bake and Pad Thai
The pepper bake is actually a thicker version of a flatbread, and is VERY good. The recipe came from Madhur Jaffrey's
World Vegetarian
and was real easy to make. There's no yeast involved, as I'm sure you can tell from the picture, although it does require you to cover and leave it alone for an hour before cooking.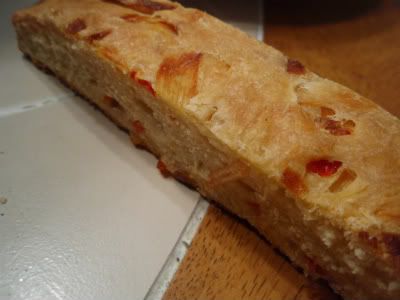 The inside of this is soft and moist, and the onion and pepper provide great flavor. The only complaint I have is that the hot pepper I minced into the bread batter lost all of its heat in the cooking process, robbing me of the kick I was hoping for. Perhaps I need to go with habanero over manzano chilis next time...
The Pad Thai was a conglomeration deal...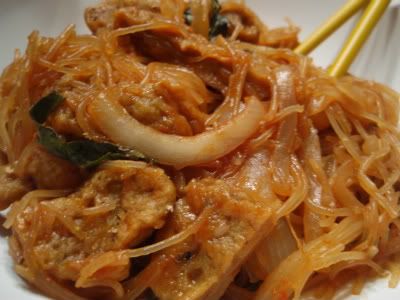 I made the sauce from the Brooklyn Pad Thai in VwaV, and instead of tofu, used the chicken nugget recipe from Vegan Dad's Cookbook. I skipped the breading of the nuggets, and cut them into strips before adding them to the wok with the other pad thai ingredients.
There weren't many vegetables in the fridge for me to add to this, but we did have garlic, lemongrass, a full onion, and a handful of fresh basil. I cut the onion into slivers, and sauteed it along with the garlic, lemongrass and chick'n. The sauce went in along with cooked bean thread noodles (damned if I can tell the difference between those and rice noodles) and everything simmered for a few minutes. The basil was julienned and mixed in when I turned off the heat.
I wish I'd had some more vegetables to put in this, but it was delicious with what we had. This also didn't taste very peanuty, although I added a couple of tablespoons PB to the sauce to make up for the roasted peanuts which I didn't have. The tomato paste really shone through though, and made for a wonderfully bold dish that I can't wait to make again...
Selah.