REALLY GROSS Pasta Salad and Portabella Burgers
I knew as I was making this that it would be gross. The ingredients were just plain weird, but I kept at it anyway, pulling things out of the fridge and combining them, more out of sheer boredom than anything else. I was right, this was gross, and I won't even bother sharing what I put into it, because frankly I don't want anyone else to suffer through the same pain.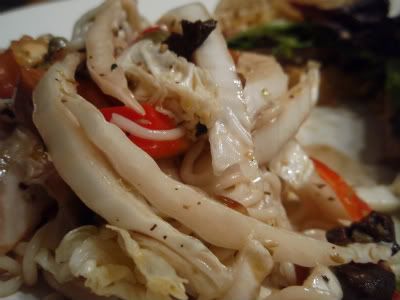 I think my first mistake was thinking I could make a cold pasta salad with tofu shirataki noodles, they should never be served chilled. They also don't go well with vinegar, or any number of the Mediterranean based ingredients I used. The sliced smartdogs didn't help either.
Moral of the story? If something SEEMS wrong as you're making it, stop, and do something else. It won't be magically delicious, and it's a waste of perfectly good food.
The portabella sandwich was good...probably because it was the same V'con mushroom recipe I used for the salads earlier this week, and I set it up with some chipotle mayo and salad greens.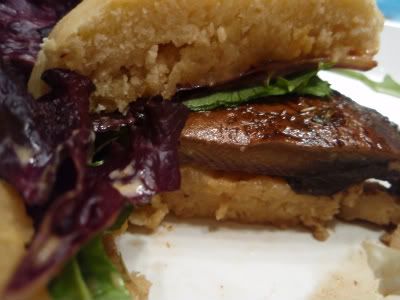 Easy, and something of a relief after that disastrous pasta dish.
Selah.