Pink Bean and Quinoa Croquettes with Mushroom Sauce, and Italian Tofu over Wilted Spinach
Who ever would've thought to do a croquette with quinoa? I swear Isa is a genius...
I was worried these would never stay together, but I'm glad to report that I was dead wrong. Until they were hit with a fork, these held their shape perfectly, and that's all I can ask for.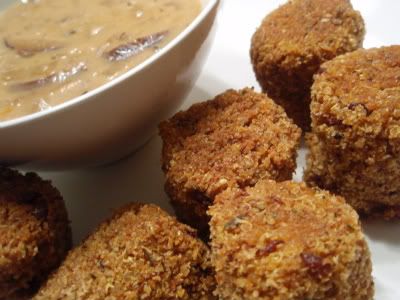 Recipe from VwaV
The recipe is actually supposed to be made with black eyed peas, but I didn't have any of those, and there was 3/4 of a can of pink beans that's been sitting in the fridge for about a week. I'm sure the black eyed peas would've been good too, but I loved them as is. The mushroom sauce was great as well, although I put in a bit too much tamari for my liking...my counterpart was thrilled with it though. These also would've been great served in a more Italian style with a marinara dipping sauce...like mozzarella sticks, but SO much better...
On the Italian front, I made some of the Italian Marinated Tofu, also from VwaV, and served that up over some quick wilted baby spinach.
Isa recommended marinating for an hour, and then draining the liquid before baking the tofu for 30 minutes at 400F. I actually made the marinade in the casserole dish, and after marinating for an hour, put the entire thing in the oven. It spent 40 minutes at 350F with the croquettes, and then I turned things up to 400F for the last ten. This ended up being nice and chewy, and very well flavored, since it soaked up every last bit of marinade during the cooking process. I only wish I'd had twice as much spinach to wilt down...it always amazes me how it melts away to nothing in seconds...
Selah.