Maple-Mustard Glazed Potatoes and String Beans
VwaV...you went off, and you did it again, these are AMAZING. As usual I went ahead and jazzed things up a bit by mincing a hot pepper and adding it to the mix, but the sauce was all Isa.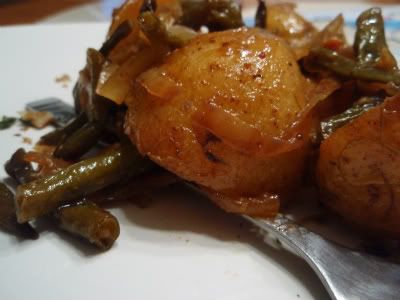 I could've eaten the entire casserole dish worth of this by myself, but sadly, I had to share. These are sweet, tender, spicy (at least my version is), and straight up comforting. A big bowl of this after a tough week at work would probably be my ideal for a friday night.
I'm glad I started prepping this early and actually read the recipe, because I hadn't realized it needs about an hour and a half in the oven. This definitely is not a thirty minute meal...but it's totally worth it. It would make a great side dish with tofu or seitan as the protein, but I skipped the traditional protein tonight and went with a side salad and some leftover kugel. Yum.
Selah.