Sweet N Spicy Stir Fry
Making this over Ramen was a mistake, but otherwise it wasn't bad. The dish was a little too sweet for me, and the spice was lost in all the sauce. Next time I'd probably halve the sugar and double the chili flakes, but other than that, the foundations of a good sauce are there.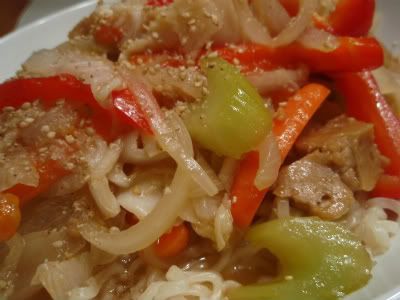 I'll post the recipe as I made it, but if you're going to give it a shot, I'd definitely recommended half the sugar and twice the chili.

Ingredients
1 scallion, sliced
2 tablespoons cornstarch
4 tablespoons rice vinegar
1/2 cup brown sugar
1 teaspoon crushed red pepper
1.5 cups pineapple juice

Directions
1. Create a slurry by combining the rice vinegar and cornstarch.
2. In a pot over high heat, bring pineapple juice,sugar, scallion and red pepper to a boil. Stir in the cornstarch mixture, bring back to a boil, and then cook.
3. Use as desired.

Selah.