BLT Burgers
I'd been looking forward to making these for about a week and a half since my oven's been broken since before I saw them on
Just the Food
.
I started things off with the bacon bit recipe from the
Same Place
. That was really my mistake with this recipe, as the TVP never become flavorful at all, and I decided to just run with it. My payback, was burgers that weren't flavorful at all. Shocking.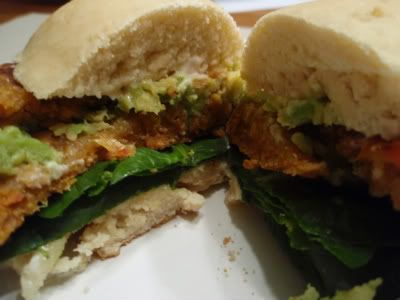 Don't get me wrong, this is an AWESOME burger idea, and I in no way blame the chef who wrote the recipe, it's all directed at myself here. This burger probably held together better than any veggie burger I've made in the past, and the avocado in the middle was a great idea. It kind of popped out when I cut the burger in half, but had stayed in through the cooking process, so I'll chalk this up to user error as well.
I definitely plan to do more experimentation with this and other stuffed burgers...I feel like I've got a whole new world at my fingertips. The next attempt will involve crumbling up the tempeh bacon from VwaV, which should give it tons of the "bacony" flavor I was looking for here.
Selah.