Portabella Salad with Spicy Mustard Dressing
I went back to V'con tonight, because when I'm having a tough day (and tough is an understatement for my last couple days) and need something comforting...V'con it is. I'm not even necessarily saying the food is comfort food (although much of it is) but the book is comforting to me. The pages are folded and spattered with food, I know where all my favorite recipes are by touch alone, and it's brought me so many happy meals and snacks over the past year or so.
When I was out shopping the other day, they had the most beautiful portabella mushrooms I'd ever seen, and unable to resist, I picked up four HUGE ones. Enter the Portabella salad with spicy mustard dressing. I'd been eying this one for awhile, but not being a huge "salads for dinner" person, had never really gotten around to it.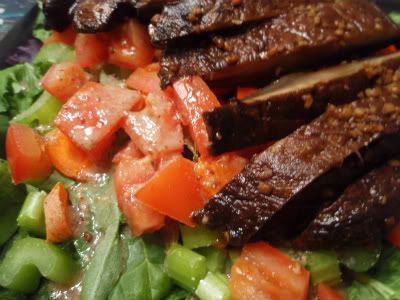 I am SO glad I finally tried this! The mushrooms were juicy and perfectly flavored, and the mustard dressing on the salad was delicious. My boyfriend actually thought it was a raspberry vinaigrette at first, and after a couple tries I just had to give him the ingredient list. This is GOOD. It's REALLY good, and after one bowl full, I'm totally satisfied. I think I've finally found a salad I can have for dinner!
Selah.